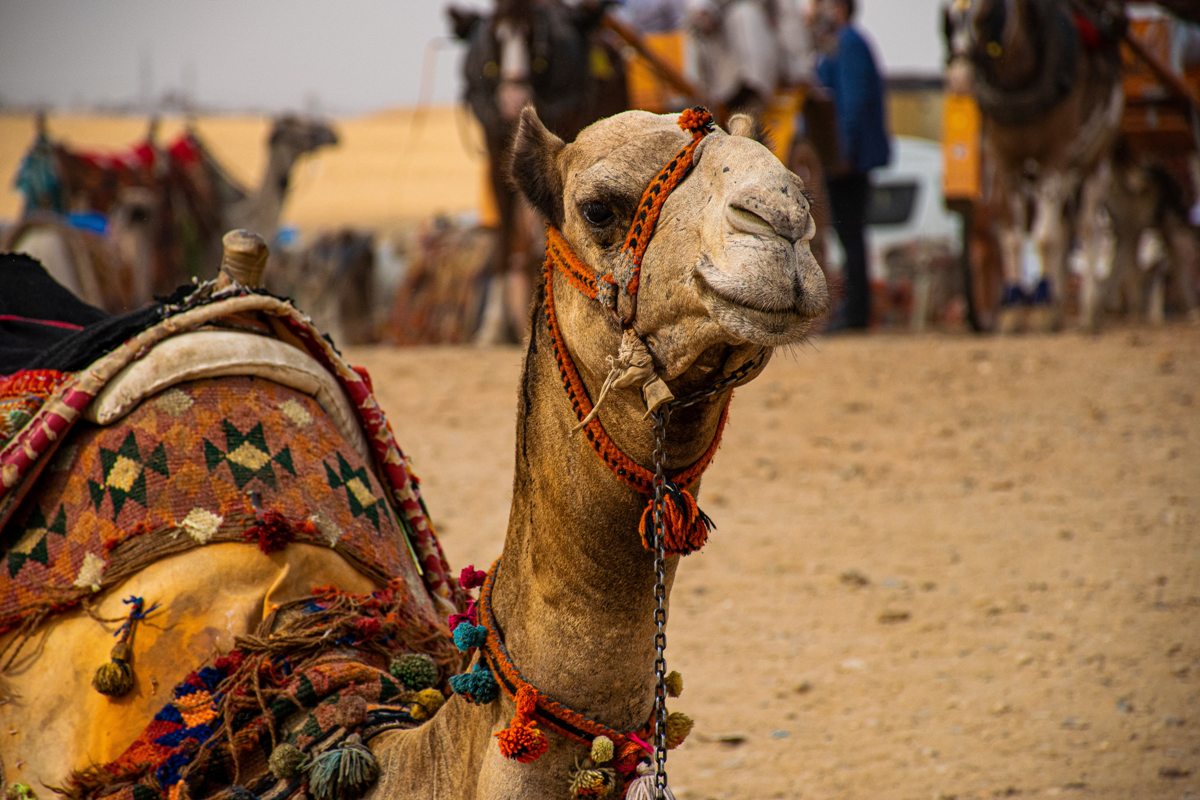 Camel racing is synonymous with the United Arab Emirates. Whilst many flock to Abu Dhabi to marvel at high-rise tower blocks, immaculate shopping malls, and eat Michelin-starred food, those who really want to understand true Arabic culture should be making a beeline for one thing; camels. Camels are highly valued in the UAE, largely for racing, but also for undertaking farm work and helping with transportation. Here is how to truly experience the wonder of camel racing.
Visit a Camel Farm in the Al Khateem Desert
To start off your camel racing adventure, it first makes sense to meet the animals that make it possible. With their incredible adaptations to a hot, dry climate, we expect to see camels in the desert. So, it makes sense that the camel farm is right in the middle of the Al Khateem Desert.
The camels here are a mixture of dromedary camels, the species used for racing, as well as a small number of Bactrian camels, a species that is on the brink of extinction. The camels on the farm are carefully managed and bred in order to preserve the species and to produce animals that will be suited to working life. When you visit the farm you'll be able to interact with the animals, including feeding them and stroking them. Many people are amazed at the sheer size of camels, an adult dromedary is usually more than 6 feet tall to the shoulder, whilst a Bactrian camel can be a foot taller still. Take some time to appreciate these big but gentle creatures before moving onto the next part of the adventure.
Be a Spectator at the Al Wathba Camel Race Track
Camel Racing is incredibly popular throughout the UAE, and luckily for you, this means there's a racetrack just a short drive from Abu Dhabi. The Al Wathba Camel Race Track holds race meetings from the beginning of October until the end of March. During this period it is a little cooler than the rest of the year, so the camels are able to perform to their maximum capabilities. On a typical race day, around 100 camels will compete by running around a track of between 6 and 10km in distance. The camels can reach staggering speeds of up to 40km with a little encouragement from the robot jockeys that sit upon their backs, as well as the cavalry of jeeps that follow them. Unlike in horse racing, camel racing stops for nobody! Camel races take place back to back, so there's never a lull in proceedings, even if that means starting a new race before the stragglers from the last race have made it home.
If you want to bet on the action then you won't find on-course bookmakers here, sports betting is illegal in the UAE. However, that's not to say that you can't win money in a camel racing game. Vegas Slots Online is available to players in the UAE and includes several camel themed slot games in its catalogue. One of the most fun is Cash Camel, which takes you on an adventure through the Arabian desert, you guessed it, on the back of a camel. The reels are themed as things you might encounter on your camel ride and there are plenty of multiplier bonuses and free spins available to win.
Try Your Own Skills on a Desert Safari
If you're feeling inspired after your day at the races and encountering the animals up close, then maybe you want to try it for yourself? We have numerous camel-based tours listed at AbuDhabi.com, including desert safaris, and camel riding at the racetrack. The racetrack experience will suit those with a confident and sporty attitude, whilst the morning desert safari rides are suitable for those who'd like to experience the joys of camel riding in a more laid-back manner. Whichever you choose, remember that the guides are experienced riders, and the camels are very used to carrying a person on their back, so there really is nothing to fear.