Abu Dhabi History
Introduction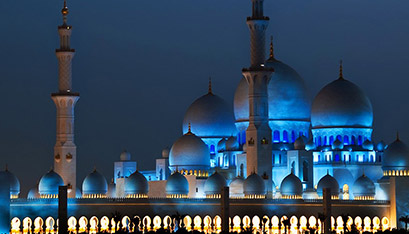 Abu Dhabi's people today enjoy living in modern, technologically advanced surroundings, a huge historic leap from living in simple mud-brick huts like some of its previous settlers.
The emirate is rich in archeological finds. There has been evidence that the very first settlements were from the 3rd millennium BC in some regions of Abu Dhabi. Its early history resembles that of the nomadic period with typical herding and fishing lifestyles.
Settlements can be traced back as far as over 5000 years ago, and have been found around parts of Abu Dhabi, such as Jebel Hafeet near Al Ain and on the island of Umm al Nar.
Abu Dhabi's most significant settlement was those of the Bani Yas Bedoiun tribe which were located by the coast around the 16th Century. Afterwards, the discovery of fresh water led the tribe to relocate to the island which was more fertile with large quantities of wildlife. Soon after, the ruling Al Nahyan family decided to flee to the island also.
Under the rule of Sheikh Zayed bin Khalifa, Abu Dhabi thoroughly developed through the trading of pearls, and in 1892 came the very first exclusive treaty linking Abu Dhabi with Great Britain. The emirates location was seen as a great strategic convenience connecting it with India and the east, and it was established as the Trucial coast.
Whilst Abu Dhabi's wealth was looking on the upside, it was badly hit by the intervention of Japan's pearl industry and also by the 1930's global recession. Furthermore, Sheik Zayed bin Khalifa passed away which added more uncertainty to Abu Dhabi's prosperity.
However, this was not the end of Abu Dhabi's fortunes. In 1939 Sheikh Shakhbut bin Sultan Al Nahyan granted petroleum concession to the Trucial Coast Development Oil Company, (renamed the Abu Dhabi Petroleum Company, ADPC, in 1962) in a bid to search for large oil reserves. In 1958, huge offshore oil reserves were discovered and a year later onshore reserves were also found. It was not until 1962 that the oil exports began, leading Abu Dhabi on to the road of unbelievable wealth.
In 1966 Sheik Zayed bin Sultan Al Nahyan became the new ruler of Abu Dhabi and two years later he formed the federation of the United Arab Emirates, which was in response to the British threatening to withdraw from the region by the end of 1971. The ruler of Abu Dhabi realised that his connection with Britain was vital in order to maintain a strong position in the oil industry. Sheikh Zayed bin Sultan Al Nahayan was elected as the first president and with the assistance of the British started to carry out his vision of developing the country with the advantage of increased oil revenues.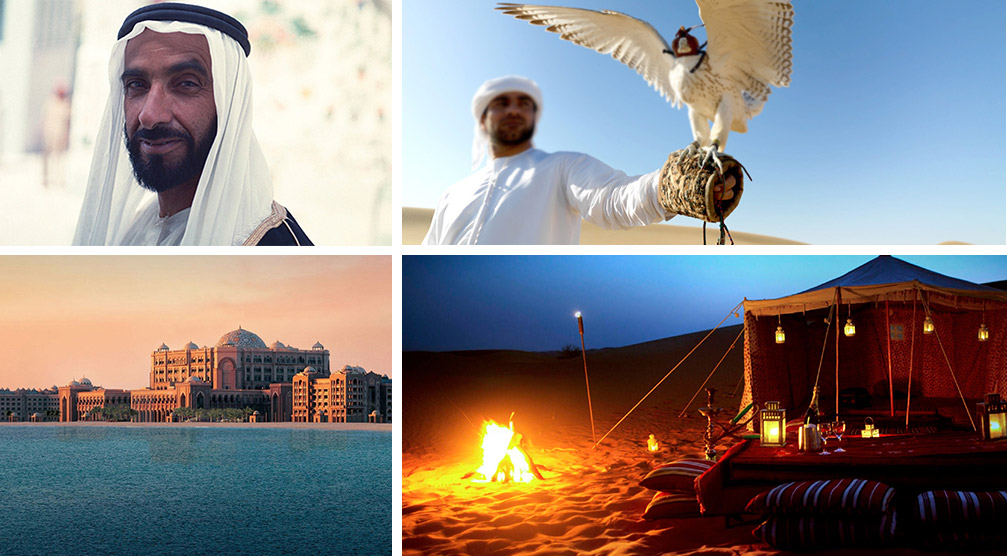 Sheikh Zayed was known as the 'Father of the Nation' due to his great developments of the city of Abu Dhabi. Unfortunately he passed away in 2004 and his son Sheik Khalifa bin Zayed Al Nahyan was elected as president and made sure he would continue his father's legacy.
Sheik Khalifa has invested oil reserves sensibly in order to boost tourism figures. With the outstanding determination of the Al Nahyan family reign, anything is possible.
Key fascinating and impressive developments have been implemented, such as the Saadiyat Island and Al Grum Resort in order to attract visitors from all over the globe.
Abu Dhabi, the capital of the UAE, has come a long way; rapidly re-constructing itself into a flawless city, with extraordinary sky scrapers, shopping malls, top quality hotels and picturesque gardens. It is certainly very different from what it was 50 years ago, but its history still remains a prominent factor in its path to success.
Culture
Abu Dhabi has been converted into a tourist attraction, an up-to-date city with its sophisticated high rise buildings, extensive entertainment facilities and beautiful large gardens and parks. However, beneath this modern portrayal lies a rich cultural background.
The emirate's culture is strongly embedded within the Islamic traditions of Arabia, with many mosques scattered around the city amongst the modern architecture. Abu Dhabi consists of many nationalities and cultures, which are all welcomed as long as they do not jeopardise the Islamic religion. Although the city has changed dramatically in the last 40 years by foreign influences, the people of Abu Dhabi still uphold old traditions and continue to promote their cultures to those unaware of their prosperous heritage.
Abu Dhabi is known as the cultural heart of the UAE, enthusiastically marketing cultural and sporting events that represent its past. Sports include, camel racing and dhow sailing, and cultural events include Arabic poetry, dances and music.
Many locals dress traditionally, men in their full length shirt-dress (dishdasha) with a white or red checked head dress (gutra), whilst women wear a black abaya – a long black robe and a headscarf (sheyla).
The official national language of Abu Dhabi is Arabic, although, English, Hindi and Urdu are also widely spoken in and around the city.

Recommended Activities