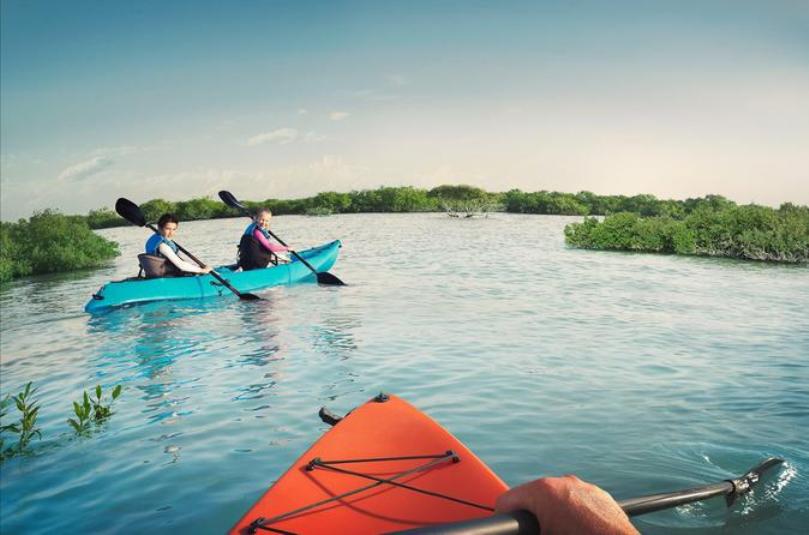 Besides being the capital city of the United Arab Emirates, Abu Dhabi has no shortage of tourist attractions to keep visitors of all ages engaged and entertained. While you will find the city showcases the history and hotels in Abu Dhabi display the abundant luxury of the Arab city. For some unique experience, you can have some fun in the land of the desert, by taking a kayak and exploring the Abu Dhabi eastern mangrove.
This month get a chance to explore the beautiful marine life of Abu Dhabi with a kayaking tour. The tour begins with your choice of departure and mainly depends on the tide and weather conditions on that particular day.
The kayaking tour exploring Abu Dhabi's Eastern Mangroves takes about roughly 2 hours. You will be provided with all the kayaking equipment, along with expert guidance from the trainers before you begin the journey. A safety brief later and you are off, paddling through the mangrove canal. The well-informed guide will take you through the channels and inform you regarding all the birds and marine life around.
During this tour, you can rest at the beach or even swim halfway through the trip and display your swimming prowess. The journey can be a little taxing, and you will also be provided with complimentary fruit salad to refuel as you end the tour on a sweet note.
Abu Dhabi is a place you must surely visit to explore the rich Islamic culture. Don't wait for this once in a lifetime experience and grab your ticket today!