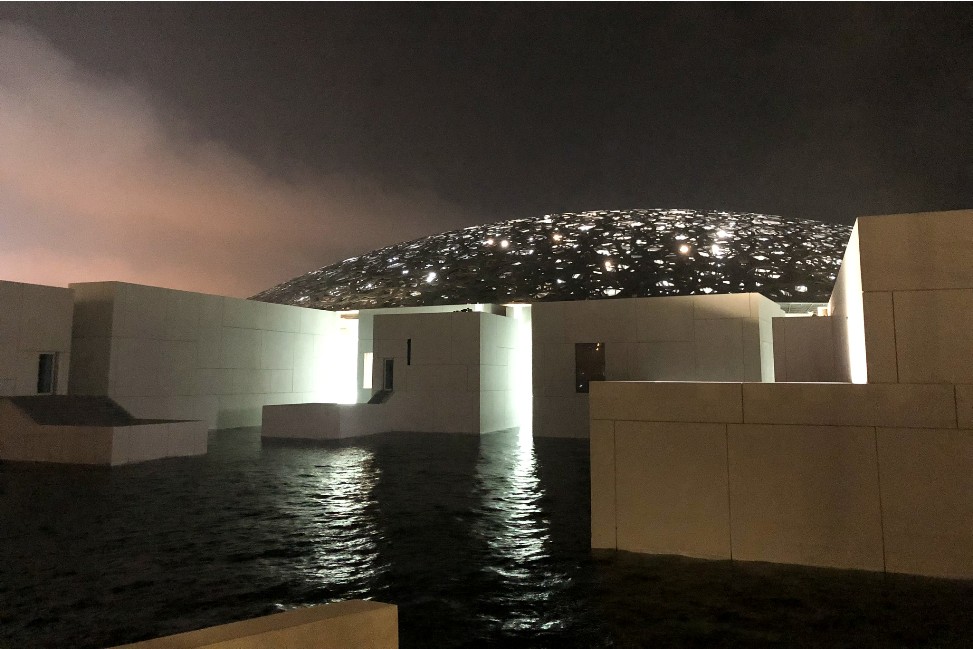 Credit: Flickr / Paul Keller / CC BY 2.0
Abu Dhabi, home to awe-inspiring architecture, serene seaside promenade, and rich Emirati culture- there is plenty to explore in this magical city.
With the Louvre Abu Dhabi Museum opening on November 11, 2017, visitors all around the world can look forward to exploring another exciting hotspot in the city. So, get ready to be captivated by the mesmerizing Dome of Light and Shade.
Created by the celebrated international architect, Jean Nouvel, the Louvre Abu Dhabi museum is a perfect conception of the Emirati architecture and traditions. Visitors will experience a wonderful blend of light and shadow translating into reflection and calm at the museum, which is designed as a fascinating micro-city and situated on Saadiyat Island. 
So, how to arrive at the museum? Visitors will be spoilt for choice with transportation options and can arrive at the museum either by land or sea. Meandering around the 55 detached buildings at the museum, which is said to house around 600 artworks from the Louvre and other French museums, will surely be an enthralling experience.  
The focal point of the museum is the dome, which is inspired by the region's palm trees, which soften the sunbeams shimmering onto the ground. The cupola-styled dome weighing around 7,500 tonnes (200 tonnes more than Eiffel Tower in Paris), and held aloft by four massive invisible structures will delight art-lovers and visitors from all over the globe. Another distinctive facet is the dome's geometric structure which creates an exquisite tapestry of 7,850 stars. 
The museum will be an idyllic spot to enjoy walking through the serene museum-environs and having delightful conversations. Patrons can meander through the galleries, auditorium, Children's Museum, open plaza, café, and restaurant.
To truly enjoy your time exploring the iconic attractions of the city, book an Abu Dhabi sightseeing tour right away. Don't wait, plan your vacation now and get ready to have a once-in-the-lifetime experience.