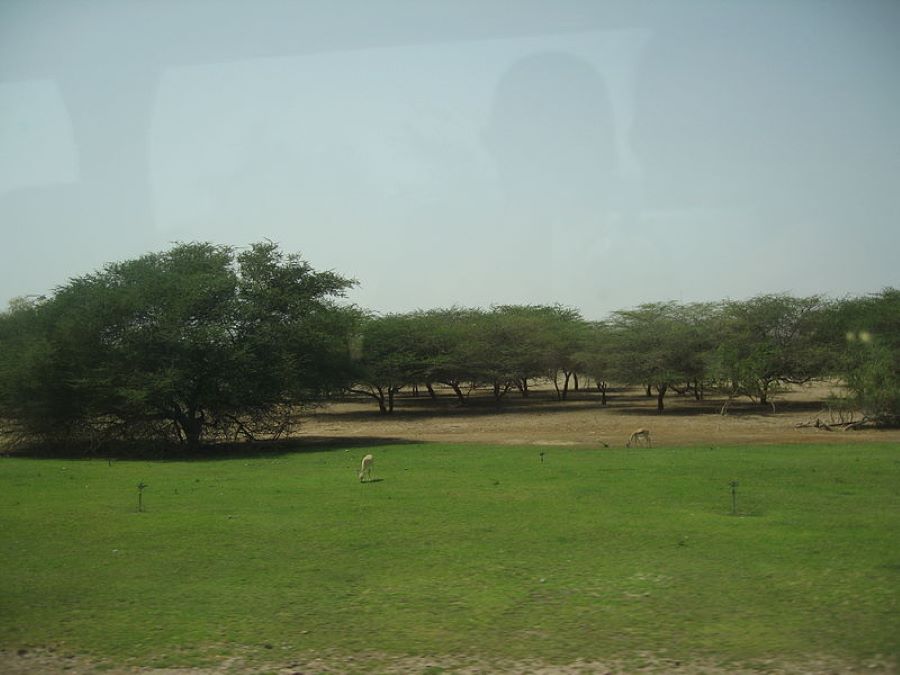 Sir Bani Yas Island, Credit: Losttraveller / CC-BY-SA-3.0
Abu Dhabi is home to a vibrant plethora of islands, some of which are virtually untouched. Of the 200-plus islands that surround the city, the emirate has made only a few of them accessible to visitors.
These islands are equipped with the latest facilities and offer a variety of entertainment concepts, secluded beaches to wildlife sanctuaries. Here are a few of these sea-surrounded luxurious retreats and what each of them has to offer.
Yas Island
Just a 30-minute drive from the UAE capital, Yas Island is being promoted as the emerging sporting and leisure destination. It is home to the state-of-the-art Yas Marina Circuit – the launchpad for the F1 Etihad Airways Abu Dhabi Grand Prix. Appealing to superyachts from all over the world, the yachting grounds are giving a determined competition to the traditional Mediterranean and Caribbean coasts.
A perfect place to spend a weekend with the whole family at the Ferrari World Abu Dhabi - the world's first and largest indoor Ferrari theme park. and Yas Waterworld. On the west coast, is the Yas Links Abu Dhabi, a championship-level golf course designed by Kyle Phillips, one of the world's best golf course designers. The island's only stretch of beach is on its southern shores is a great place to relax, enjoy the sun, food and drinks.
Sir Bani Yas Island
Sir Bani Yas Island is an eco-friendly destination that breathes life into wildlife and adventure
activities
. More than half of the island is occupied by the Arabian Wildlife Park, (one of the region's largest wildlife reserves). Formerly a private reserve for the ruler of Abu Dhabi, Sir Bani Yas Island is today home to 10,000 free-roaming animals including the once rare Arabian Oryx, giraffes, and cheetahs. The reserve can be explored with a 4x4 specially built vehicle.
Saadiyat Island
Just 20 minutes from the Abu Dhabi International Airport and seven minutes from downtown Abu Dhabi, Saadiyat Island is undergoing a major transformation into world-class luxury leisure and cultural destination. The museums, resorts, upscale residences and business centres include - Louvre Abu Dhabi, Zayed National Museum, and Guggenheim Abu Dhabi; all designed by Pritzker prize winners.
Famous for its Hawksbill Turtle Conservation Programme, the nine-kilometre stretch of Saadiyat Beach annually plays host to several critically endangered Hawksbill turtle nests.