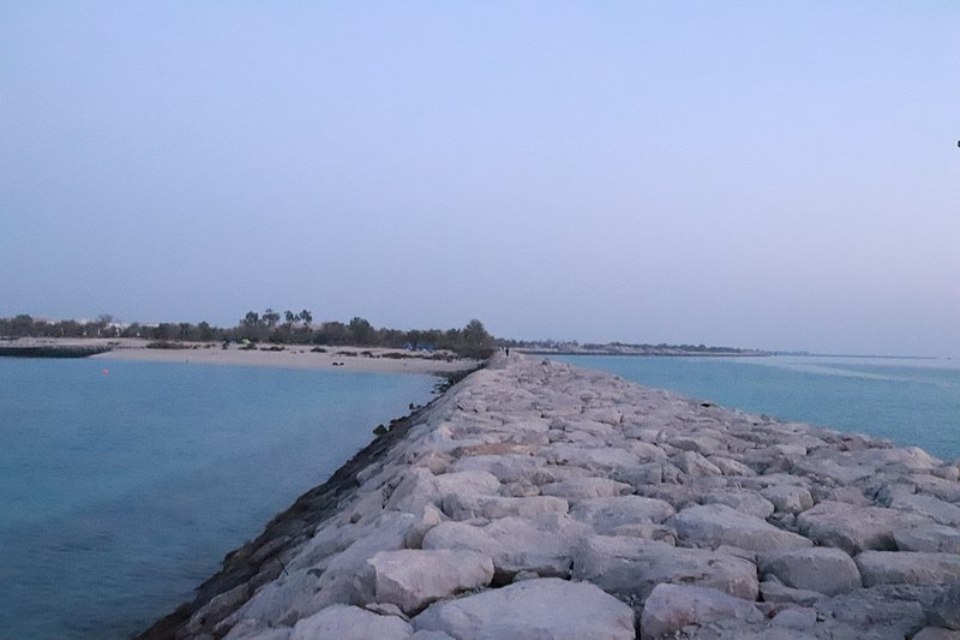 Credit: Leonilo Bolano Jr / CC BY-SA 4.0
Al Lulu Island (aka Lulu Island) is a man-made breakwater protecting Abu Dhabi from the high tides of the Arabian Gulf and measuring a 1,050-acre (4.2 km2) stretching between Abu Dhabi to the Zayed Sea Port forming a crab-like pincer.
The 600 meters wide lagoon faces the pristine Corniche, while the 500 hectares on the island remain barren. Unlike the neighbouring islands of Reem, Al Maryah, Saadiyat and Yas which have shaped the sands into wonderful urban landscapes, Lulu remains quite untouched.
Lulu was built in the early 1980s, and the Brazilian Master Architect Oscar Niemeyer was entrusted with creating a leisure island and a memorable entertainment venue. The architect worked a lyrical sketch scheme with over 600 designs, but his proposal was rejected. His works are published in a book 'Oscar Niemeyer in Abu Dhabi', launched at the Architectural Association in London and written by John Burns of Brownbook.
In 1992 the land reclamation was completed and in 1997, the Abu Dhabi Government shelved the project due to spiralling costs and other commitments.  It was in 2003, that the Abu Dhabi Government decided to revive the project by investing 100 million dirhams. In 2006, the project was entrusted to Sorouh Real Estate who committed to creating commercial, residential and recreational facilities.  In 2007, Lulu finally opened to the public with minimalist attractions which seemed quite unattractive. In 2010, the American giant of architecture Skidmore Owings & Merrill offered a new plan and the following year Abu Dhabi's Department of Transport launched a Lulu Road Project to connect the island, these projects are still to emerge.
The Lebanese artist Rayyane Tabet divulged that the island is shaped as Abu Dhabi, only 5-times smaller, and reflected on the non-implementation of the projects complimenting the fantastical character of the island. The beach which attracted tourists seeking serenity was closed in 2009 and was reopened recently.
There are many more
attractions in Abu Dhabi
to keep you entertained all day – Yas Island, Yas Waterworld, Ferrari World Theme Park & Abu Dhabi Corniche.