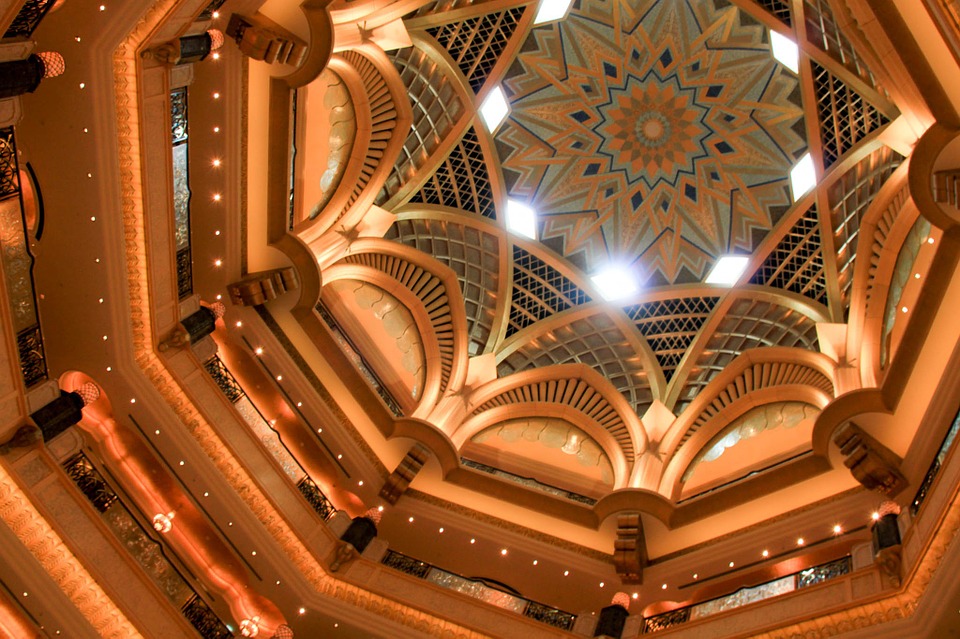 Abu Dhabi has some of the phenomenal architectural marvels in the world which are articulately designed and creatively decorated. Following is the list of top five architectural marvels in Abu Dhabi.
Emirates Palace Hotel

It is considered one of the world's most expensive hotel. Located in the heart of Abu Dhabi,  about 40 minutes from the international airport. This grand mansion-like hotel is set in 85 hectares with a private beach. There are about 394 luxurious suites and rooms.

Sheikh Zayed Bin Sultan Al Nayah Mosque
The Sheikh Zayed Mosque is the third-largest mosque in the world. It is the key place for worship in Abu Dhabi as well as the final resting place of the king of UAE His Highness Sheikh Zayed bin Sultan Al Nahyan. The architecture is a fine blend of Badshahi Mosque, Persian, Mughal and Moorish styles. It has 82 white domes of different sizes and the interior is made up of precious stones, marbles, crystals, gold, and ceramics. The mosque can accommodate over 40000 worshippers at a time.

Capital Gate
Capital Gate is also known as the Leaning Tower of Abu Dhabi due to its 18-degree inclination towards the west. This 165 meter, 36 story skyscraper is one of the tallest buildings in Abu Dhabi. The architects of this tower were inspired by the "The leaning tower of Pisa". This now is mentioned in Guinness Book of World records as "World's furthest leaning man-made tower".

Ferrari World -Abu Dhabi
Situated on Yas Island in Abu Dhabi, this amusement park is the largest and the only Ferrari branded indoor theme park in the world. Opened to the public in November 2010, this theme park has enormous thrilling rides and also includes the world's fastest roller coaster ride which runs at a speed of 240 kilometres per hour.

Aldar Headquarters
This is the most impressive corporate construction providing flexible office accommodation. When built it was named as the world's first circular skyscraper. One can have a spectacular view of the city, sea, and canal as this tower is situated on an elevated peninsula. The architecture depicts the unique Islamic culture.

Visit Abu Dhabi, one of the most favoured tourist destination in UAE, with plenty of activities and attractions.