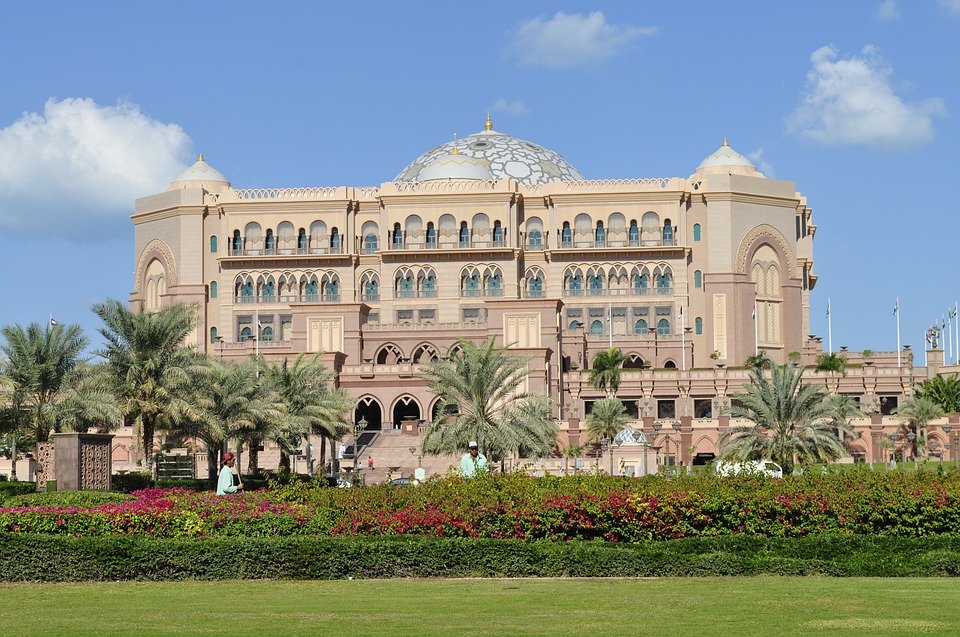 The amazing architecture in Abu Dhabi never fails to inspire and amaze you. From the Arabian magnificence of Emirates Palace to the UAE Pavilion's arresting dunes, from only one hotel in the world to straddle a Formula 1 race track to the world's furthest leaning man-made tower – the Capital Gate, the buildings in Abu Dhabi exemplify iconic architectural styles.
Sheikh Zayed Grand Mosque:
One of the world's largest mosques, the Sheikh Zayed Grand Mosque can accommodate 40,000 worshippers at a time. It features 24-carat gold gilded chandeliers, 82 domes located in the centre of the main prayer hall, 1,000 columns in its outer areas,  and the world's largest hand-woven carpet.
Emirates Palace:
A real emblematic Abu Dhabi landmark, the Emirates Palace hotel offers you an enchanting place to experience the riches of the Arabian Gulf.  Live extravagantly in a hotel that features the likes of gold, mother of pearl and crystals interiors, and a grandiose central dome at 72.6 meters above the ground. Moreover, the Palace boasts of two handmade wall display carpets each weighing a hefty tonne and 1,002 chandeliers, the largest weighing 2.5 tonnes.

Capital Gate:
We can call this a contemporary interpretation of the 'Leaning Tower of Pisa'. The Capital Gate is a 160m-tall leaning tower that inclines at an angle of 18° westward, 14° more than Italy's Leaning Tower of Pisa. The Guinness World Records has certified it as the 'World's Furthest Leaning Man Made Tower,'. It houses the Hyatt Capital Gate Abu Dhabi, a premium 5-star business hotel.
UAE Pavilion:
Inspired by the desert dunes in Arabia, the UAE Pavilion is one of Saadiyat island's major cultural attractions. It was originally designed for World Expo 2010 Shanghai, but the pieces were moved one by one from Shanghai to its permanent base next to the Manarat al Saadiyat exhibition centre.  A notable exhibition and events centre, the pavilion is one of the distinctive venues for the annual Abu Dhabi Art Fair.
Yas Viceroy:
Yas Viceroy Abu Dhabi Hotel is the only five-star iconic hotel to straddle an F1 race circuit. A true architectural masterpiece, it is impressively built half on land and half over water. The main feature of the hotel is its unique 'grid shell' that transmits video feeds over 5,096 diamond-shaped, colour-changing glass panels. The optical effect against the background of the surrounding sky and desert landscape is simply stunning!