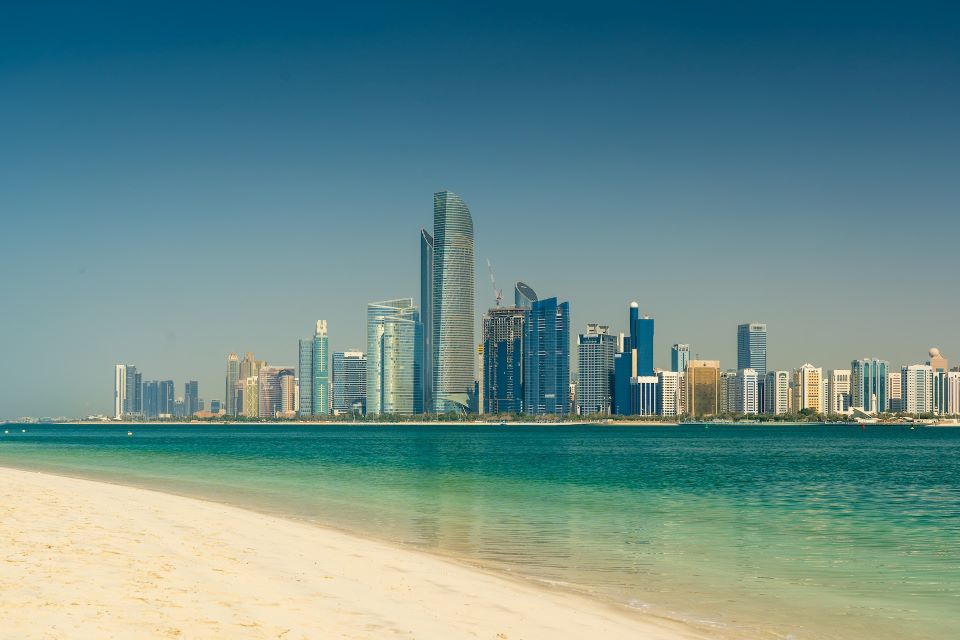 Abu Dhabi offers visitors one of the most diverse tourism offerings in the Middle East – as the old saying goes, the city has 'something to suit every taste'.
For many people, one of the best features of Abu Dhabi is its mix of city life, beaches and culture, which make it the ideal place for an action-packed vacation.
However, if the prospect of a busy holiday leaves you feeling cold, there are also plenty of ways you can unwind in Abu Dhabi. Here are some of our favourites.
Beach at the Emirates Palace Mandarin Oriental Hotel
Abu Dhabi has several stunning beaches to choose from including Kai Beach, Corniche Beach, Soul Beach and Saadiyat Public Beach. However, the pick of the bunch is the beautiful private beach at the supremely opulent Emirates Palace Mandarin Oriental Hotel.
Overlooking its own private natural bay, this near one mile stretch of beach is one of the most relaxing places to unwind in Abu Dhabi. With the hotel boasting luxury accommodation, world-class food, spa facilities and more, it is the perfect base for any visitor to the United Arab Emirates.
Online Gaming
If you fancy some downtime with your smartphone in Abu Dhabi, the city's excellent Wi-Fi connectivity makes it the ideal location to enjoy online gaming. Fans of iconic games such as blackjack are well catered for, with the best online casino in Abu Dhabi eager to welcome players.
With lucrative bonuses on offer when you make your first deposit, you can enjoy endless hours of online gaming around the city. Speedy payout times are commonplace on Middle East gaming sites, meaning you will be able to use your winnings to fund other relaxation activities in Abu Dhabi.
Al-Ain Oasis
This UNESCO World Heritage Site is one of the most relaxing places on earth, providing visitors with a memorable way to reconnect with Morth Nature. Spread across 1,200 hectares in Al-Ain, this stunningly beautiful oasis offers a welcome respite from the hustle and bustle of daily life.
The Al-Ain Oasis boasts tens of thousands of date palm trees and more than 100 different varieties of other vegetation and relics from yesteryear. It also features and ancient irrigation system known as falaj - waterways which were developed and installed by the Bedouins around 3,000 years ago.
Glamping at PURA Eco Retreats
This adults-only retreat is located in a protected area near the picturesque Jubail Mangrove Park on Abu Dhabi's stunning Jubail Island. Every element of the experience is designed to help you wind down including the accommodation, which fires glamping into a completely different stratosphere.
The deluxe domes boast king-sized beds, private bathrooms, fire pits, outdoor cabanas and more, while on-demand room service means you never have to lift a finger. With a superb pool deck offering views of nearby mangrove trees, glamping at PURA Eco Retreats is a true relaxation paradise.
Chi, The Spa at Shangri-La
Chi, The Spa draws inspiration from the iconic Shangri-La, blending the best of Asian culture with Arabian tradition to create the perfect place to unwind. The massages and treatments are truly world-class, and are guaranteed to leave you feeling totally chilled out.
The list of massages on offer is the most extensive in Abu Dhabi, with techniques such as salt stone and shirodhara among our particular favourites. Chi's signature therapies are also not to be missed, using the famed 'Five Elements Theory' to create a perfect balance in your body.
Yas Marina
While Yas Marina has become famous for its annual association with Formula 1's Abu Dhabi Grand Prix, it is a relaxing haven during the rest of the year. It offers a ton of sailing experiences, allowing you to head out into the Arabian Gulf and wind down on the crystal-clear waters.
A two-hour boat cruise will take you out from the marina around the islands of Abu Dhabi and includes a stop where you can chill on the beach or go for a swim. When you land back at Yas Marina, there are loads of fantastic bars and restaurants to choose from.