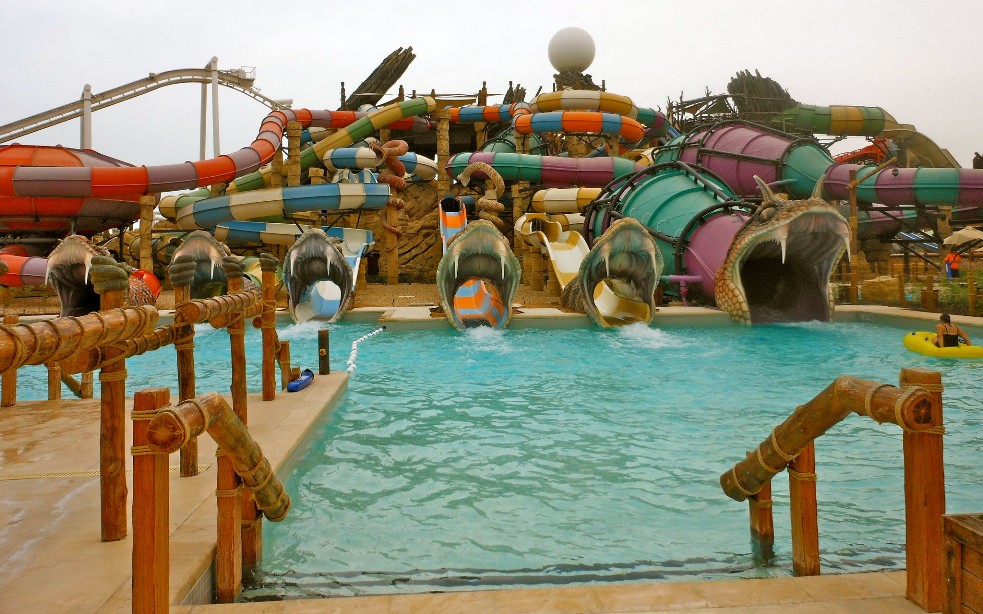 Credit: Flickr / Studio Sarah Lou / CC BY 2.0
The summers in Abu Dhabi make a perfect reason to head to the super-cool Emirati-themed waterpark, Yas Waterworld Abu Dhabi.
It is an immensely joyful experience of splashing in the waters during summers and this mega waterpark, which is home to 45 invigorating rides, slides, and attractions are ready to give you the thrill of a lifetime. This summer vacation, visit Abu Dhabi and stop for some exciting fun at the Yas Waterworld Abu Dhabi.
The waterpark spread over 15 hectares is situated next to the Ferrari World Yas Island and is dotted with tourists from all over the world, especially during the summer season. As this is a favourite summer getaway, plan your bookings online to avoid queuing hassles. You can also look out for the waterproof electronic wristband to pay easily without carrying cash.
Super-adventurous rides
Bubbles' Barrels: The world's largest sheet wave of surf awaits you with a 1,250 horsepower gushing out 7,000 litres of water.
Bandit Bomber:  This Middle East's longest suspended roller coaster makes a perfect interactive fun-ride.
Falcon's Falaj: The thrills of a six-person wild raft ride assure you a super-fun-time.
Grab-a-bite
After an exhilarating ride-time, stop here for a bite.
Dana's Diner: Offers a great selection of burgers, BBQ, and desserts.
Chubby's Kitchen: Enjoy a scrumptious meal with pizzas, fried chicken, and Indian food. 
Yas Berry: You will enjoy the pasta and smoothies here.
Farah Flavours: This place is a must-visit for traditional Turkish ice cream.
Special Offers
Annual Pass: You can get full-year access to the best rides with exclusive discounts.
Birthday Party: You can celebrate children's birthday at this perfect fun destination.
Come and experience, Yas Waterworld, an ultimate destination for your friends and family.