The UAE capital Abu Dhabi is dotted with record-breaking feats. The city has much to boast about from stretches of gilded deserts to gorgeous beaches. It is also known for its magnificent architecture with the tower that has the greatest lean, the world's highest penthouse bridge, the largest marble mosaic and more. Explore the dazzling city and learn about the deep-rooted culture and traditions.
Adventure-lovers and visitors who wish to unwind will find an immediate connect. Enjoy the best outdoor activities and desert adventures and like Arabian BBQ dinner, desert adventure-sports, sheesha cafes in Abu Dhabi and create some unforgettable memories.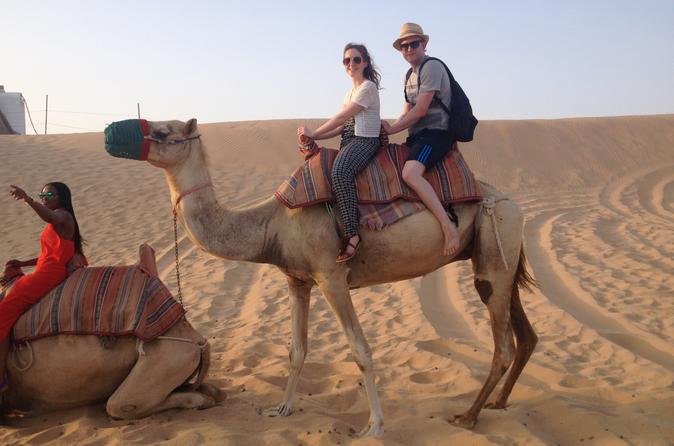 Abu Dhabi Evening Desert Safari, Dinner, Camel Ride and Dunes
Explore the panoramic desert expanses bursting with adventures on a 5-hour Luxury Abu Dhabi Desert Safari Evening tour. Enjoy the serene and vibrant evening as you head through the sand dunes slopes. Take a 1-hour 4x4 dune bashing ride and capture some stunning sunset photos. Have-a-go on electrifying activities like sand boarding, quad-biking, visiting a camel farm and more. Relax at a starlit desert camp and enjoy a belly dancing show and a delicious BBQ dinner. This tour is an ideal tour for families and couples.
CHECK AVAILABILITY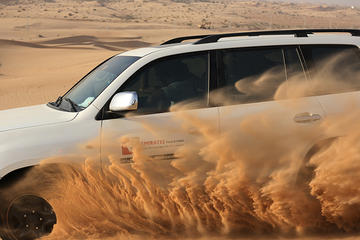 Evening Desert Safari With BBQ Dinner
Unwind in the stunning desert landscapes on a 6-hour Evening Desert Safari with BBQ Dinner. Head out for the Al Khatim Desert with the Safari Marshall in a 4x4 Land cruiser. Enjoy a scintillating 4x4 dune bashing ride, visit a camel farm and capture photos and get settled in an Arabic-themed-camp to enjoy the buffet BBQ dinner (vegetarian meal option available) and a belly-dancing show. Also, try the camel rides, quad biking (own expense), henna-tattooing and dress in an Arabic-costume for a souvenir photo.
CHECK AVAILABILITY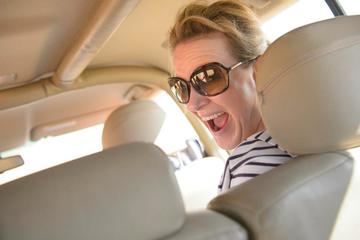 Abu Dhabi Evening Desert Safari
An adventurous guided tour in the backdrop of an exquisite evening can be experienced on the Abu Dhabi Desert Safari tour. Reach the Al Khatim Desert in a 4x4 land cruiser with a free hotel-pickup and arrive at the spectacular desert camp-site. Visit a camel farm and take photographs with your family. Enjoy the sunset and relish the BBQ buffet dinner and enjoy activities like dune bashing, camel rides, sand boarding, belly dance show, shisha smoking and henna tattooing. Also, get free round-trip transportation back to your hotel.
CHECK AVAILABILITY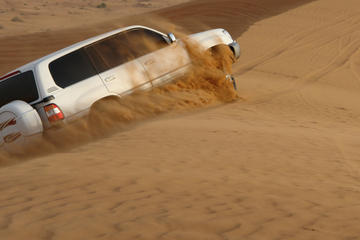 Abu Dhabi Desert Morning Safari
Enjoy a thrilling 4-hour morning adventure in the magnificent desert terrain with the Abu Dhabi Desert Morning Safari tour. Journey into the Al Khatim desert with your safari guide in a 4x4 vehicle and revel the adventure on a dune bash with an expert driver. Unwind at the Bedouin-style camp, set with tents, cushions and carpets. After having some complimentary refreshments try out activities like the camel rides and sand-boarding. At the end of the tour head back to your hotel with the free drop-off and many treasured memories.
CHECK AVAILABILITY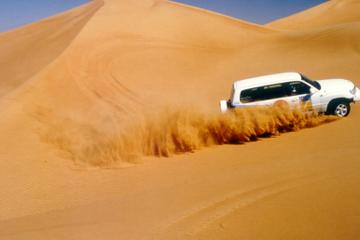 4x4 Abu Dhabi Desert Safari with Camel Ride
Experience a Bedouin-life on a 5.5-hour adventure-filled 4x4 Abu Dhabi Desert Safari with a camel ride tour. Experience the environs from the air-conditioned 4x4 vehicle and head for an action-packed afternoon and evening desert safari. Visit a camel farm, take camel rides and capture photos of the camels. Indulge in some sand boarding and dune bashing rides, and get an intricate henna-tattoo done. Enjoy the sunset and head to a torch lit desert camp for a delicious Arabian-BBQ dinner and a belly-dance-show under the starlit skies.
CHECK AVAILABILITY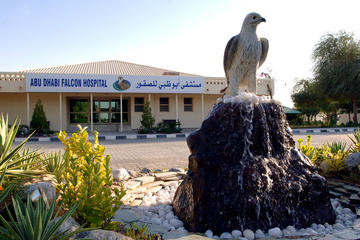 Falcon Hospital Tour Abu Dhabi
Take time out to tour the world's most unique hospital for falcons at the Abu Dhabi Falcon Hospital (ADFH). Visit the largest falcon hospital in the UAE and the world, and learn about the veterinary health care services provided for the falcons. The guided tour will help you understand the process of taking care of these birds, and you will also get some photo opportunities. This tour is complete with all entrance fees, and free hotel pickup and drop-off is included.
CHECK AVAILABILITY
Recommended Activities