Recommended Activities
Tips & Articles
Abu Dhabi, UAE » Entertainment » Shopping Centres
Abu Dhabi's shopping scene presents a huge variety of choices. There is a diverse collection of modern stores and unique authentic souvenir shops. Even for visitors who love a good bargain, there are some great deals to be found in the cities traditional souks. The city is perfect for shopaholics with most of the shopping malls open till late at night. Furthermore, many shopping centres are spacious offering lots of additional entertainment and leisure facilities, making shopping in Abu Dhabi an exceptional experience.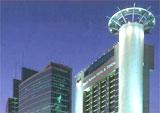 Abu Dhabi Mall ( Visit Site )
Opened in 2001, the Abu Dhabi Mall is the largest and most exciting shopping mall in Abu Dhabi. It is located in the Tourist Club Area, adjacent to the Beach Rotana Hotel. Spread over 200,000 sq metres area, it houses 220 shops selling some of the best international brands and 40 international food outlets including restaurants and an extensive food court. It features shops of make-up and perfume, music, soft furnishings, household furniture, electrical goods, gifts, pharmacies, confectionary, dates, sportswear, stationary, children's, women's and men's fashion stores. Equipped with two action-packed kid's entertainment centres, there is a Cineplex to entertain the whole family, as well as plenty of restaurants to choose from.
Address:
Tourist Club Area, Abu Dhabi, UAE
Abu Dhabi Duty Free Complex ( Visit Site )
This is one of the most beautifully designed and developed duty free shopping areas, which cover an area of 5000 sq. metres. There are various shops with international brands, as well as stores for chocolates, food, liquor, cigars, watches, gold jewellery, gift items, medicines, books, toys, music and leather goods. There is also the chance to enjoy food and beverages at several restaurants and cafes situated around.
Address:
Abu Dhabi International Airport, Abu Dhabi, UAE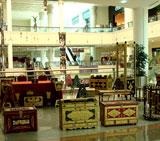 Al Ain Mall ( Visit Site )
The Al Ain Mall is the perfect place not only for shopping but also to spend quality time with family and friends. Opened in 2001, the mall is popular for its wide range of shops, restaurants, cafes and entertainment facilities. Spread over an area of 108, 000 sq. metres, it has three levels designed for retail, dining and entertainment outlets. This shopping mall consists of 12 bowling lanes, four cinemas, a kids play room, a spacious food court and an ice rink on the ground floor.
Address:
Othman Bin Affan St Al Ain, Abu Dhabi, UAE
Al Wahda Mall ( Visit Site )
Al Wahda Mall is located in the centre of downtown. This modern, l.5 million sq. feet shopping mall has maintained its own standards with high-end stores and an extensive food court. There is a large grocery and dry goods store in the basement named as Lulu Hypermarket. Parking can hold nearly 2000 cars.
Address:
Defence Rd., Airport Rd., Abu Dhabi, UAE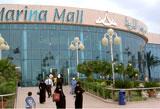 Marina Mall ( Visit Site )
A four-storied building located in the Breakwater area next to the Corniche Hotel, Marina Mall is all about offering the greatest shopping experience. The mall houses around 300 stores, including four supermarkets and two hypermarkets that offer everything that a buyer can wish for. Additionally, it is the home of the only IKEA store in Abu Dhabi. This beautifully designed mall has a musical fountain with wonderful interior decor. Enjoy all types of flavours at the food court and even get active at the ski slope or ice rink.
Address:
Corniche / Breakwater, Abu Dhabi, UAE
Madinat Zayed Shopping & Gold Centre
( Visit Site )
Considered to be one of the biggest malls of Abu Dhabi, the Madinat Zayed Shopping & Gold Centre is located in the heart of the city and covers 600,000 sq. foot of shopping area. This air-conditioned mall has major international and local outlets. It is famous for having some of the largest jewellery shops in the UAE offering some of the best gold, pearl and diamond accessories. The mall also houses a big entertainment complex with a babysitting section and an arcades area.
Address:
Madinat Zayed, Abu Dhabi, UAE
Abu Dhabi Co-operative Society Complex ( Visit Site )
This shopping centre located on Sheik Zayed Street, is known for having a huge shoe collection, funky gifts and inexpensive distinctive clothes outlets.
Al Jimi Mall Al Ain
Located in Al Ain, is not as big as the Al Ain Mall but still offers an extensive range of retail and food outlets, including the French hypermarket Carrefour.
Foutouh Al Khair Centre ( Visit Site )
This shopping centre, located close by the Etisalat Building, is home to a wide variety of world known brands such as Monsoon and Marks & Spencer.
Hamdan Centre
Situated in the heart of the city, offers a large selection of goods ranging from clothing to sports equipment.
Liwa Centre
Liwa Centre is located on Hamdan Street, offers great prices for jewellery, clothes and makeup, and is ideal if you want to avoid big crowds that the huge malls usually attract.
Lulu Centre ( Visit Site )
Lulu Centre is on Al Salam Street, offering a random selection of accessories with good bargains.
Rotana Mall
This small shopping centre, located near the Corniche, offers a selection of souvenirs such as Arabic Pottery, handicrafts and other unique pieces.
Fascinating items can be found at Abu Dhabi's Souks
Al Ain Souk
Located on Zayed Bin Sultan Street, is known as the Central Souk and is a great place to take in a traditional market atmosphere.
Al Ain Camel Market
Situated near the town centre, is a place where you can experience some local trading and buy some interesting souvenirs.
Al Zaaafaranah Souk
This large market located in Al Ain, consists of over 200 shops including fruit and vegetable stores, textiles, perfumes, a popular seafood restaurant and a play area.
Carpet Souk
Located on Al Meena Road, offers some great bargains on Arabic carpets and cushions, and is also known as the Afghan Souk.
Mwaifa Souk-Al Ain
This market located on Sheik Khalifa Bin Zayed Street, is one of the modern type souks and offers a variety of different outlets scattered along a large strip.